The stair barrier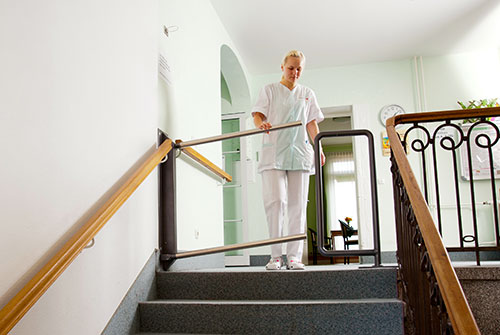 Stairs are dangerous. Especially for people with reduced mobility the risk of injury from falling down stairs is particularly high in nursing homes and hospitals.
How can such stairs be secured so that they can still be used in an emergency such as a fire? The stair barrier – an innovative and patented product of Sicuratec – offers a solution.The barrier secures the landing and prevents any accidental access to stairs.
Safety without blocking escape routes
However, it does not block the passage. The stair barrier protects both wheelchair users and pedestrians from falling down the stairs. It can be easily opened by lifting the upper or lower section of the barrier. The bars drop gently and quietly back into a horizontal position after the time needed for passing through. In the open position, the barrier usually does not reduce the passage width. Due to its design, flat fixtures and vertical opening the device is no obstruction to escape routes.
Proven safety
Our product helps ensure residents' safety in over 500 nursing homes and hospitals around Europe. The stair barrier is especially intended for facilities which host persons with limited daily living skills such as dementia patients. Practically soundless and easy to use, it offers maximum safety for residents and patients and does not slow down the work of the caregivers.
For further information on Sicuratec's stair barrier, please do not hesitate to contact us. We will be happy to advise you.