Stair gate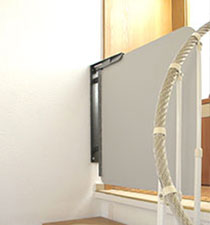 The Sicuratec stair gate is a safety device designed to secure staircase landings in private houses. The gate offers the same capabilities to prevent falls on stairs as the stair barrier but in a smaller dimension. Unlike the stair barrier, the gate can be locked in closed position. In doing so, it reduces the risk of accidental access to stairs that lead down to the lower floor and are attached to narrow corridors, for example.
Because the locking mechanism is placed on the hinge side, the gate does not need a stop side or additional lock and simplifies installation, significantly. The gate consists of a base plate, door leaf (standardly made out of wood) and a lever that locks and unlocks a U-shaped steel plate on the top of the leaf. Lifting the lever allows the door leaf to be swung open through 340º. The opening mechanism of the gate is practically maintenance-free and the design of the mount can be adapted to an existing handrail if needed.
The door leaf of the stair gate can be easily customized in a number of colour combinations and sizes to better fit your interior design. Special coatings according to RAL color scheme (exc. pearl shades and bright tones) are available at extra cost.
If you have any further questions on our stair gate please do not hesitate to contact us. We will be glad to help.